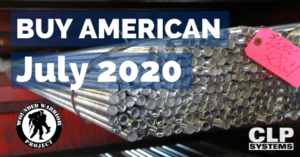 CLP Systems is partnering with Wounded Warrior Project to donate a percentage of every threaded rod purchased in the month of July to help serve warriors and their family members. That means every rod you purchase for the month of July will help empower, employee, and engage veterans for their next mission in life.
As a domestic manufacture, we celebrate our country and independence by giving back to those who have sacrificed for our freedoms. We support the Wounded Warrior Project because of the positive impact it has had on the friends and lives of the veterans that work for CLP Systems.
We are proud to support and give to the Wounded Warrior Project.
*CLP Systems is donating $0.01 for every pound of steel in the CLP tie-down system purchased in July. Final announcement of donation amount will be made in August. Please contact info@clp-systems.com for more information.