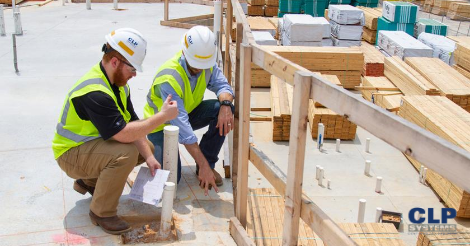 The single most stressful aspect of tie-down hardware is the anchor design and placement. This has always been the case so why does it seem like it's getting more complicated? In this short article, we'll share some ideas on how you can simplify your anchors. Understanding why anchors are becoming more complicated will set you up for success on upcoming projects.
Evolving Engineering
With developers looking to get more out of available property, many engineers are challenged with slab design requirements and anchoring solutions on increased numbers of floors in order to maximize the building footprint. The industry continues to see new challenges and solutions on the slab levels, and recently there has been a lot of focus on anchoring solutions at the edge of slab with the use of drill and epoxy anchors.  Many new buildings are being designed with high-load holdown systems to meet increased tension loads of shear and uplift forces. With larger loads at the edge of slab, epoxy and cast-in-place anchors often cannot provide the necessary structural value in the concrete to maintain the integrity of the anchor. The most common solution is a steel embed plate, but these are typically a last resort because of the higher cost and longer fabrication times. Higher loads require more complex solutions and more time to design and fabricate.
Epoxy Capacity Limitations
Epoxy anchors can only go so far. Even if the concrete conditions work for an epoxy solution, sometimes the engineering of the epoxy just does not allow for post-installed anchors. Furthermore, epoxy anchors can be a risky option in post-tension slabs where PT cables may be cut or nicked during drilling – especially on an elevated slab. This risk can be reduced with subsurface scanning of the slab while drilling, however, this adds time and cost to the project.
If a cast-in-place anchor or embed plate is missed during the concrete pour, there may or may not be an epoxy solution that can meet the required capacity. This leads to more expensive retrofit solutions, such as drilled through-bolts or post-installed embed plates.
Deferred Design
An industry trend over the past ten years has been a move toward tie-down systems being designed by the supplier. This includes the anchor bolts, which require additional coordination with the concrete designer and general contractor to determine the exact concrete conditions.
Also, anchors that are specified in structural plans may not clearly differentiate between interior and exterior conditions. To be safe, interior and exterior anchors should always be further investigated by your anchor supplier.
Concrete Building Code Changes
ACI 318-14 Ch. 17 (Code for Anchoring to concrete) can be complicated to interpret and apply. Capacity reductions or anchor limitations can be overlooked in the design phase, which can cause challenges for suppliers trying to come up with solutions. Also, ASTM standards for anchorage are changing with each IBC release (Int'l Building Code is updated every 3 years) and are becoming more stringent.
Higher Design Standards
The complexity involved in engineering for densely populated areas with minimal available property is challenging conventional engineering standards. As demand increases for urban space, we will continue to see creative solutions for larger designs.
Some structural engineers require anchors to be cast-in-place, with no exceptions for value engineering. Additionally, engineers and architects prefer to design cast-in-place or 'wet set' anchors when the loads start to creep to 12k-15k+ lbs. as these anchors can carry higher loads than post-installed anchors, which are epoxied into the slab after the concrete has been poured. These factors will continue to complicate design and installation if the anchors are not carefully considered in advance.
What Can Be Done to Make Concrete Anchors Less Complicated?
The most important action you can take is early communication with your tie-down supplier. Without it, you become susceptible to stressful last-minute solutions and costly mistakes.
Or worse, it becomes too late.
But there is a solution. It's custom to each project and it's letting CLP Systems guide you to success. Getting CLP Systems involved before a scheduled concrete pour allows our in-house engineers to evaluate each condition and tackle any potential issues well before they become emergencies. Ideally, way before anchors are shipped for the layout phase.
CLP is here to help make concrete anchors less stressful for you. Be the hero of your project by choosing CLP Systems to help you overcome the complexity of concrete anchors.