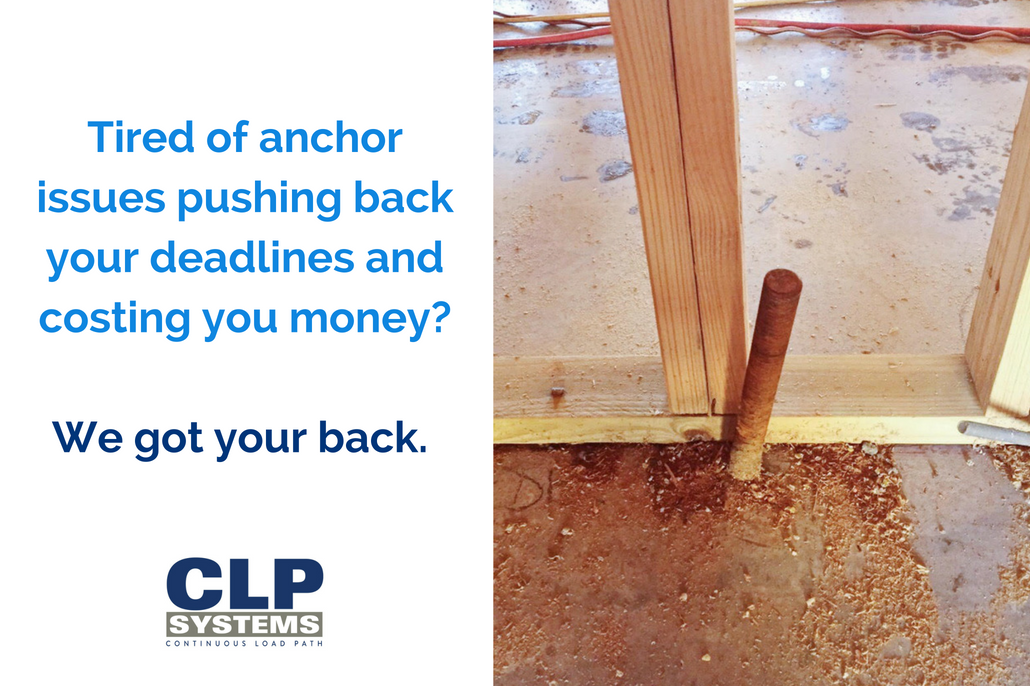 Did you know that getting the CLP team involved early-on in your project can save you both time and money?
It's our business to help you reach project success, and the sooner we get involved means less work and worry on your end.
We spent some time talking with our engineers learning the various ways our team can help you on your next project.
Many times, anchors are picked out of massive catalogs where the fine print is easily overlooked. This means when it is time for installation, the anchors don't fit the requirements and must be fixed post concrete pour, thus, leading to hours of extra work and headaches finding a solution. Not to mention, many more dollars being spent just to push back the completion date even further.
Don't want this to happen to you?
We got your back.
Here at CLP Systems, we help engineers specify anchor requirements on the front-end so anchor issues are one less thing to worry about. Our details have dimensions that aid in finding the exact locations where the anchors should be installed, and our expert anchor engineers use the ACI 318-11 Appendix D (or ACI 318-14, Ch. 17) to help find anchor solutions that better align with your preferred methods. CLP Systems' anchor design include post-installed adhesive anchors, cast-in-place anchors, embed plate, and post-installed embed plates.
Keep reading to learn other ways that CLP can help you solve your anchor issues.
Missing Anchors and Insufficient Concrete Parameters
A surprising percentage of jobs have insufficient concrete design. Many EORs have a larger scope considering the entire structure, causing many details of shearwall anchors to be overlooked during the early phases of the structural plans. Addressing this issue on front-end can help relieve anchor design issues and scheduling conflicts.
A solution to this is getting CLP involved early in the process so we can offer the best post-installation solutions before it's too late. We can do this by providing concrete requirements beneath the holdowns to achieve a post-installed solution. In the case of limitation parameters of the concrete, we can provide embed plate design as an anchor solution. This eliminates costly changes that must be made after concrete has been poured.
If concrete has already been poured without the required cast-in-place anchor or embed plate, CLP Systems engineers work closely with EORs to provide or recommend solutions. However, this solution proves to be costly and time consuming for all parties involved, typically further pushing back the schedule.
Shop Drawings and Specification
When we get involved early, we are able to provide calculations, anchor diameters, and embedment depth. Further, we can provide the EOR with details for edge distance requirements and compression post design.
All of the provided specifications can also be provided by the CLP shop drawings.
Here at CLP Systems, it is our mission to provide simplified, seamless project success. How can we help eliminate anchor issues on your next project? Click here to get started.
Huge thanks to Khalid Arafeh, P.E. and Paul Malcom, E.I.T. for lending their time and expertise for this article.